Do you want to return goods to us?
We have changed the handling of returns a little.
You can now use https://www.protrade-integra.com/retoure/ to generate a prepaid return label for a flat fee of 3.70 ¤. The resulting fee will then be offset against the refund amount of your return. In the case of defective or incorrectly delivered goods, the return is of course free of charge for you.
As soon as this return slip is requested, you have the option of having the return label sent to your email address.
* Currently we can only offer this service for returns from Germany, Austria and the Netherlands.
However, this service is being expanded and we hope to be able to offer this to all other countries soon.
For returns from abroad or general questions about your return, please contact kontakt@protrade-integra.com for the further procedure or processing.
Please note
Always fill out and enclose the return slip (included in the e-mail with your invoice) IMPORTANT: Please always provide account details for any chargebacks.
---
Exchange
Nowadays everything is getting faster. Whether you are used to ordering today and receiving the goods the following day or sending goods back and not having to wait five days for your new goods, all of this is now considered normal. Since everyone knows that change is good and does not have to be feared, we have also decided to change our procedure for processing returns on September 6, 2019: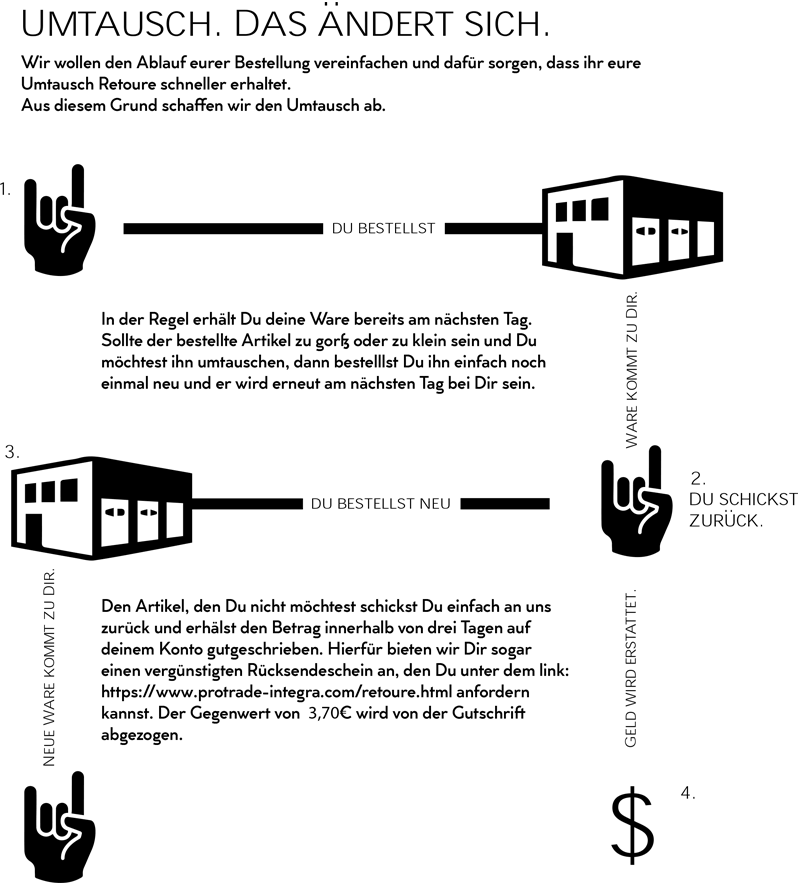 In future, returned goods will be reimbursed as a lump sum instead of exchanging them. If an exchange for a different size is desired, this must be ordered and paid for again via the online shop.
The advantage for you is that the newly ordered goods can be sent as quickly as possible (within one to two days after receipt of payment) regardless of the processing time by our returns department.
A new order that is placed via direct payment methods such as PayPal or Sofortüberweisung can be handed over to shipping within one working day, new orders paid by bank transfer can be sent within two to three working days. A return will be reimbursed within 3 working days of the return shipment. In this way, we can guarantee that, on the one hand, the newly ordered goods will reach you as quickly as possible and, on the other hand, you will get your money back quickly.
In order to make it easier for us to process your return, please be sure to fill out the complaint slip and enclose it with your order. This was sent to you in advance by email.
Returns that are returned to us due to delivery problems (not picked up at the post office, recipient cannot be identified, etc.) will be stored for a maximum of 14 days. Within this storage period, we will try to reach you regularly to clarify how to proceed.
If we do not receive any feedback from you, we will cancel your order and reimburse you if necessary. If it turns out that the return was caused by the customer's fault, we will in any case charge a new shipping fee of ¤ 4.90 before we send your order again.
Since we incur costs for every package that cannot be delivered and therefore returns to us, we ask you to note the following:
Check your delivery address before placing your order. Especially if your last order was a longer time ago.
You will automatically receive a tracking number for your order. Use this to keep an eye on the status of your order. In this way, you can also immediately find out when your package is ready to be picked up at a post office.
If you have been waiting for your package for a long time, check your e-mail inboxes and the spam folder to see whether you have received an e-mail from us in which we need further information from you.